We offer a wide variety of procedures tailoring to the needs of the land.
Revegetation. Erosion Control. Landscaping. Environmental Consulting. Weed Control. Fencing.
We have provided revegetation and environmental consulting services to a diversified clientele, including the largest coal mine in the western hemisphere, copper mines, government entities, subdivision developers, private individuals, non-profit organizations needing reclamation advice and landscape assistance, oil and gas companies, precious metal mines, airports, and more.
- Revegetation -
Revegetation is the bringing together of proper design, technology, equipment, materials, expertise, and hard work to establish successful plant communities on disturbed lands. Rocky Mountain Reclamation is well known for its ability to combine all of these elements to obtain a superior end result for their Clientele.
Some of the steps to successful revegetation include: proper design, determining the best seed mixtures, soil amendments, fertilizers, and erosion control materials to maximize plant establishment and soil stabilization for the site conditions and post reclamation land use, determining best revegetation technologies to apply to the project, incorporating proper, well-maintained equipment into the process, utilizing revegetation experts with many years of on the ground experience, and getting out there and actually getting the work done, in spite of all the factors making it difficult to succeed.
Some of the revegetation procedures include: seedbed preparation, applying soil amendments, rangeland drill seeding, native hay mulching, straw mulching, hydromulching, tackifying, installing erosion control blankets and mats, and installing BMP's and other erosion armor and protection materials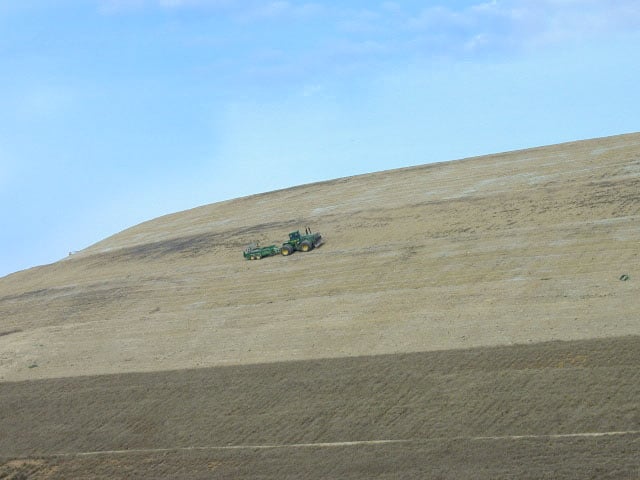 Difficult projects are our specialty.
We have the technical expertise and specialized equipment to provide unequaled revegetation and reclamation success. Our experienced staff are experts at implementing the proper reclamation techniques to meet site specific conditions and situations.
Airports, Exploration Drill Sites, Hard Rock and Sand and Gravel Quarries, Hazardous Waste Sites (RCRA, UMTRA), Highways, Landfills, Mines – Coal and Non-Coal, Mountain Developments, Oil and Gas Drill Pads and Access Roads, Open Space Developments, Pipelines – Water, Oil, Gas, Sewer, Wildlife Habitat Enhancement, and a myriad of other standard and specialty projects throughout the western USA.
Protecting the Environment.
We use the best management practices available to stabilize the soil and environment. Some types of erosion control products include: dry mulches, sediment logs, erosion control blankets, and specialty products.
- Landscaping and Weed Control -
To improve the aesthetic appearance and functionality of a piece of land by changing its contours, adding features, planting trees and shrubs. We specialize in xeriscaping, a landscaping style requiring no irrigation. We emphasize native dry land grasses, wildflowers, shrubs and trees.
We specialize in on-site design to create a highly functional, aesthetically pleasing landscape while utilizing state-of-the-art landscaping techniques that lower installation costs and long-term maintenance requirements to our clients.
Includes: Turfgrass Seeding, Wetland Mitigation, Native Wildflowers, Boulders, Rock, Irrigation Systems, Native Xeriscape Installations, Maintenance, Sodding, Tree/shrub/wildflower Installations, School Athletic Fields, Streetscapes, Urban Green-belts and Nature Paths, Trails, Campgrounds, Playgrounds, Mountain Homes, Small Acreage, Retaining Walls, Soil Preparation, Airports, Golf Courses, Subdivisions (Commercial and Residential), Housing Developments, Commercial Shopping Areas, Apartment Complexes, Housing Communities, Private Homes
- Environmental Consulting -
We provide clients with expertise in revegetation planning and practices.
Revegetation and Range Studies (often in conjunction with networked consultants)
Terrestrial and Aquatic Ecosystems Inventory & Analysis. Vegetation Type Mapping: Black & White, Color, Color Infrared & Satellite Imagery. Range Site Mapping and Condition Classification. Erosion Condition and Potential Identification. Carrying Capacity Evaluation. Rare, Threatened & Endangered Species Inventory. Site Monitoring for Revegetation Establishment. Noxious Weed Survey and Control Recommendations. Selenium Indicator Plant Species Identification. Vegetation Cover, Production, Density & Frequency & Inventory Analysis. Timber Survey – Basal Area, Height DBA, Volume Estimations, Size Classifications
Reclamation and Revegetation Planning
Revegetation Specifications & Plans. Seed Mixture Designs & Recommendations. Plans, Designs & Specifications to satisfy Statutes Governing Mining & Exploration. Landscaping Plans & Specifications to Meet Client Requirements
OTHER ENVIRONMENTAL Studies (Available through networked consultants)
General Regional History & Site Specific History. Preliminary Paleontological and Archaeological Survey. Aerial Reconnaissance. Ground survey. Small Animal Mapping. Big Game Census & Habitat Study. Rabbit and Small Mammal Census. Rare and Endangered Species Inventory. Game Bird, Raptor, Nongame Bird, and Breeding Ground Survey. Unique Habitat Identification. Aquatic Vertebrate Sampling. Reptile and Amphibian Survey. Habitat Affinity Relationship Evaluation. Predator Inventory. Species Diversity Determination. Species Populations and Abundance Calculations. Habitat Mapping & Identification by Ground Survey & Photography. Past Land Use Determination. Present Use Evaluation. Future Use Development Planning
Soil Surveys: (Available through networked consultants)
Mapping & Classification. Profile Descriptions. Sampling and Chemical Analysis and Interpretations
- Fencing -
Construction of a wide variety of fence types, as well as fence repairs, removal, and reinstallation.
3 and 4-wire smooth and barbed wire fences, Woven wire sheep tight fences, Welded wire fence, Wildlife / deer and elk fences, Rodent proof fences, Industrial chain link fences, Wood landscape / yard fences, Split rail fences.
Using Tomorrow's Technology ... Today
Rocky Mountain Reclamation is an industry leader in new and innovative reclamation and revegetation technology in the western USA. We have completed projects involving simple seeding techniques to more complex vegetation establishment on acid mine drainage, tailings piles, sodic and saline sites, and other phytotoxic environments. We bring this new technology, equipment, and expertise with us to your projects.
We will be happy to answer any questions or provide an extensive listing of previous experience and reclamation techniques.